Did I keep you waiting for this round up? Sorry as our trip got little extended this round up got bit delayed too. Now with the round up....
We have many new and lovely participants this time , A warm welcome to our new participants here , who presented their recipe for the first time with the event here.
Jyotsna
Manjushree Mukkala(non-blogger)
Jayashree
Swapna
Mommyof2
Aarti Mahajan- etkapure(non-blogger)
Jai and bee
Mishmash
Yum
Here you go with the round up.
Lovely
Soumya
of Home Spices reached to me First.
Pink Slush
is her entry for the event . Check out her recipe for it
here
.
Maheswari
is with us with her beyond the usual recipe –
Strawberry Ginger lassi
.
Sharing along with that some nice experience of her 5 years of togetherness with her hubby. :), check out her recipe and lovely words
here
.
Gattina
from Kitchen Unplugged is sharing with all of us the favorite of her hubby -
Cherry coconut chocolate
.
Just a picture is enough to make mouth watering for a chocolate lovers. :D
Jyotsna
Vasudevan from Currybazaar is sharing here with all of us
Date flavoured Tiramisu
.
Sri
from Daavat is Sharing here with us –
Rice Pudding
. She also shared her nice experience with hubby, and I agree with her words, as far as it concerns to me, I also feel the same way. Sri : )) .
Asha
from Foodieshope , or should I say from Aromahope(confused…!!! : )) ) , is sharing touching story from her past with all of us, along with the
Vegetable pulao
she made for her rice lover hubby. : ) . as usual she is making us all hungry with her nice picture of this vegetable pulao, when decorated in such a nice way, I think even non rice lover will fall in love with dish , Asha ! :D
Seema
of Recipe Junction is sharing here with us
Rose ice cream soda
. Such a lovely idea and the color is perfect for the theme. I think if there is any prize for the theme then you muct have deserved one for bringing out the perfect color in it for the theme : ) .
Usha
is sharing here with us
Strawberry -french vanilla Cake
along with some sweet memories of her first valentine's day ! How sweet of her to share such nice memories with all of us : ) .
Jai and bee
from Jugalbadi is sharing very creative
Bouquets for valentine
. See the picture below to sheck out the nice presentation with different food and chutneys. .
Jayashree
of spice and curry , made her hubby's favorite recipe -
Bengali fish Curry
, and shared with us along withsome nice facts of Allahabad. : ) .
Mishmash
has taken a slight twist and sharing her memories of bachelorhood, the old ang old days with friends…. She is also sharing with us
berry-grooms-and-berry-brides
. What a lovely idea to participate with the theme , Mishmash ! : ) . Indeed lovely pictures too !
Jasmine
from Spicetrail is sharing here with us here delicious way of making
Creamy vegetable soup
for her valentine. She asked me to put this lines on behalf of her to to share with all of us.
In her own words …
"Valentines day was a strict no-no for me and hubby ( ours was a chuppa-chuppi romance...so we used to be as far away from each other on that particluar day.. ..you know how it is in India..when you walk with your brother on V-day you will be end up raising many eyebrows. ..
But now we are at peace after marriage after many years of courtship.we dont have to worry much...and just wonder about those loverlorn couples who maybe doing the same thing like us .and it just brings a smile on our face..hoping that they will be at peace someday like us..where everyday is Valentines day!"
Prema
of my cook book is here with her unique way of making
Strawberry cheese cups
along with dosa and sambhar for her dosa lover hubby :D . do not forget to go through her nice words for her hubby dear… :) .
Beetroot Halwa
from
Coffee
of My khazana of recipes… , what can be perfect than this for Vday ? its red, its sweet and it looks heart warming…. Such a lovely entry Coffee ! : ) . Along with this coffee has shared her experience of the dilemma before choosing a her hubby dear , and the past and loving experience of that too….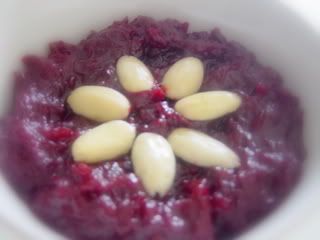 A lovely entry from
Trupti
of the spice who loved me is
Cinnamon streusels cake
,
made with the help of her 3 year old kid…. Such a lovely contribution from mom and sun to this event , I think this entry is really special in a way that it is accompanied by the help of little angle at home , a special hug to Sahil for this from me. :) .
Lakshmik
of veggie cuisine ,has presented here lovely
blueberry pecan coffee cake
here to make this Valentine's day real Sweet. :D . This is really a nice entry , Lakshmik, where have you been , I missed you with my roundup since last few weeks dear.
Vini
is here with all of us to spread her whirl of aroma among all of us… : ) , this time she is presenting
Chocolate mousse
for her little Ananya and
Tiramisu
for Hubby . such a lovely idea Vini. Thanks for participating inspite of ananya's injury . A brave and very loving mom you are. Hugs to you !
Supriya of Spice corner is sharing with us
Fresh Strawberries with Ice Cream and Chocolate Sauce .
A lovely entry for this Sweet event from lovely Supriya. :)
Yum
of Spice of life is sharing her with us
Moolangi ambat with kerala red rice.
Yum is also sharing another entry for the event –
Raspberry Scones
.
Swapna
of Swad is sharing –
Tomato rice
for this special day with all of us.
Mommyof2
from Mommy friendly recipe has made
garlic chicken & thai green curry
for her 2 little valentine and hubby dear. Such a lovely idea to make all happy around… : ) . this is her first food post , as she mentioned in her post, thank you very much for contributing here with your first post, G P.!
Now is the turn of our another 2 special participants of this Theme. They are non blogger and sent their entry to me by email along wiht the picture.
First is
Manjushree Mukkala

She made
beet root halwa
Rest here is a her email in her own words and recipe.
Our wedding anniversary falls just one week before the Valentine's Day. This year we couldn't celebrate as our son was sick. So, I decided to make up for it by celebrating the Valentine's Day and surprising my husband. Beetroot is one of my husband's favorite vegetable and hence came the thought of making beetroot halwa to my mind. I made the halwa the day before the Valentine's Day and shaped it round so that it looks like a cakeJ.
At 12 in the night I took it upstairs and he was really surprised at my creative idea. Then we cut the halwa together pretending it to be a Valentine's Day cake. It was a perfect starting for the Valentine's Day. In turn he surprised me in the evening with roses.

The basic ingredients required for this recipe are beetroot, ghee, sugar and nuts. Some form of milk product, may be milk or condensed milk or ricotta cheese is optional.
Below is how this particular preparation is made:
Beet root grated - 2 cups
Sugar - 1/2 cup
Ghee - 1/2 cup
Milk - 1/2 cup

Preparation method:
1) In a frying pan, add, 1/4 cup of ghee
2) When the ghee is hot, add beetroot and fry till it is soft (<5min)
Second non blogger buddy we have with us is Aarti mahajan–etkapure
She made – strawberry lassi
In her own words...
I came acros your blog a few days back and am following most of your recipes from then on. :) Your recipes are really good and aptly named-- "creative". I read about the theme for this week and decided to contribute the easiest recipe availabe. I hope you will accept my recipe though I am not a blogger.

This was my first Valentine day with Hubby dear as we got married in June 2006. Both of us beleive that we dont need any "day" to celebrate/express our love.. So "Every day is a Valentine day for us" ;)

One fruit that you'll find in my house most of the times is Strawberry. My hubby, Rahul, loves strawberries. Another thing he is crazy about is Yogurt. None of his meal is complete without Yogurt. So I decided to try out something with his favorites. And Strawberry Lassi was the first thig that came to my mind. It was ready in 5 mins and resting in fridge for another 3 hrs waiting for compliments. Needless to say, Hubby dear loved it :) Here goes the recipe-

STRAWBERRY LASSI

Ingredients:
1/2 cup plain Yogurt
1/2 cup cold water
5-6 big fresh strawberries
4 tbspn sugar (amount may depend on strawberry taste and may vary according to desired taste- sweet/sweet n tangy- typical strawberry taste)

Recipe:
1) Wash and cut strawberries in big pieces. Grind them in a mixer with sugar.
2) Whip yogurt using a blender and add water.
3) Add the strawberry sugar mix to yogurt and mix well.
4) Best served chilled.
Here are Entries from me For the theme of the week -Valentine's Day.
Refreshing Drink - Black Grapes with Orange Juice(2:1 portions).
Brunch-
Aloo Paratha with Spicy Tomato Chutney
Main course-
Matar Paneer(Green Peas with Cottage cheese)
Dessert -
Strawberry Icecream
Apetizer -Beat treat, check the recipe for it
Here .
(this is also my secind entry to AFAM- Strawberry)
I hope that I have not missed anyone of yours entry for this round up I checked it for 3 times ,still if I missed someone's please wihtout hesitation just write to me soon, I will update it .... Have fun and celebrate each day with love. Love is all around us.... :D